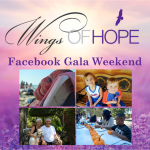 Facebook Gala Weekend: Sept. 30 – Oct. 2
We look forward to "seeing" you for the 2016 Wings Facebook Gala Weekend from Friday, September 30, through Sunday, October 2!
On this weekend, take a picture of how you would choose to celebrate — maybe a day on the water, a cookout with friends and family or a quiet dinner for two. To send it to us, click the Message tab on our Facebook page, www.facebook.com/wingsofhopefoundation, and in the window that pops up, click the Add Photos button (the one that looks like a sun rising over the mountains), attach the image, add a brief description of what's going on in the photo and hit the Enter/Return key. We will message you back to confirm we've received your submission and will post the photo to our page.
Photos will be accepted from Friday, September 30, through Sunday, October 2, and voting will open when the first photo is posted and close on Friday, October 7.
Be creative! If you post the picture that gets the most "Likes," you'll win a $100 gift card! Plus, anyone who makes a donation between now and the end of the year will be entered into a drawing for a $100 gift card — plus that donation will be DOUBLED to make twice the difference in young people's lives!