Giving Report August 2016
Your Donations at Work August 2016
During the second quarter of 2016, $19,066.05 was given to assist at-risk teens and young adults who have aged out of foster care (between 18-21 years old) in Volusia, Seminole, Orange, Brevard and Osceola Counties. Details are listed below, but first we want to let you know how your donations positively impact the youth in our community and particularly the following young person:
Juan is 20 years old and just graduated from high school. It wasn't easy, but Juan stuck with it because he realized that education was his only hope for a better future. He enrolled in New Directions Charter School where he was given the personal attention and help with subjects he found difficult. Additionally, Juan received therapy to help with his personal issues and took several Life Skills training classes to help him learn how to become a self-sufficient adult. He currently has a part time job and volunteers at a local charity. Juan plans to continue his education either in the military or tech school. His history of determination and willingness to learn and work allowed him to participate in the WingsNet program. We are proud to help young adults like Juan get on track for success.
---
Update and News
Here's specifically how the funds were used from October 2015 through December 2015:
$13,350.00: academic achievement
$ 1,305.00: life skills training
$ 2,598.00: education fees, tutoring and life skills classes
$ 285.00: therapy, medical assistance
$ 957.00: employment skills/performance
$ 100.85: emergency assistance
$ 470.20: repairs/renovations to group homes
$19,066.05: Total
We will continue to report on how YOUR donations are being used. Thank you for your confidence that Wings of Hope will continue to be good stewards of your generosity.
Individually we do make a difference. Together we change lives.
---
New Opportunity: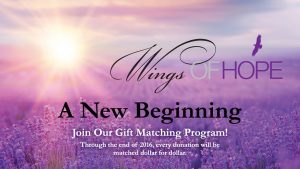 Your generosity over the last 20 years has allowed Wings of Hope to GIVE more than $1.45 million to help at risk youth! Reaching this milestone makes the timing right to move in a new direction. Although we won't be holding our annual Gala, we are planning to continue our WingsNet program for many years. This year we are implementing a Matching Gift program through the end of 2016 — all donations will be matched dollar for dollar. This will ensure our WingsNet program can continue to impact the at-risk youth aging out of foster care.
---
Wings FaceBook Gala Weekend: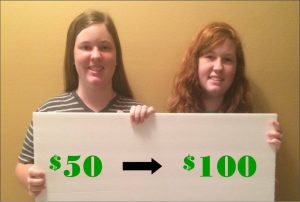 We hope you'll continue to celebrate the legacy of hope that we've built together by participating in our FaceBook Gala Weekend from Friday, September 30 through Sunday, October 2! It's easy and you don't have to have a FaceBook account yourself to participate – just go the our page: www.facebook.com/wingsofhopefoundation for how you can post a picture of your Wings celebration – maybe a day on the water, a cookout with friends, an RV adventure! Be creative! If your photo gets the most "Likes," you'll win a $100 Amazon gift card! Plus, all donors will be entered into a drawing for a $100 Amazon gift card, too!