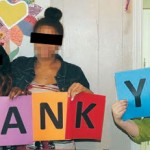 Stories From the Young People We Help
Download Wings of Hope Newsletter 2015
Like many of the children Wings of Hope helps, Brooklyn passed through many systems and foster homes. Despite her unfortunate personal life, Brooklyn cares deeply for others and wants to help others after graduating from high school. She has been accepted into a local college's social work program and is determined to make her career dreams come true.
Alex dropped out of high school at age 16 because he was behind academically and struggled to make friends each time he changed schools. At age 19, he earned his GED, got a part-time job as a security officer, found a roommate and moved into his first apartment. As he transitions into independence, he has set his sights on pursuing further academic goals.
Lora and her two younger siblings came into care for abuse and neglect 3 years ago. Lora's brother and sister were placed with relatives, but Lora was separated because she acted out. After cycling through multiple placements, Lora landed in Destiny's House, where she has become a positive example to other girls as she plans for her future and works toward her goals. Before she turns 18 this year, she will complete her GED and plans to attend college.